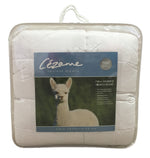 We've just seen the end of days where we were all kicking off the sheets in the sticky summer heat.  With Winter bearing down on us we are delighted to be able to offer our Beautiful 400 grams New Zealand Alpaca Duvet Inners.  
Long ago, alpaca fiber was reserved for royalty. Because of its soft texture, alpaca fiber is sometimes compared to cashmere. The fiber also has the luster of silk, making it even more coveted. Alpaca is just as warm as wool, yet it is a mere 1/3 the weight. 
Containing no lanolin, alpaca fiber is also naturally hypoallergenic. Most people who are sensitive to wool find that they can wear alpaca without the itching or irritation they feel from wool because alpaca fiber is smooth. 
Limited Stock of these Awesome Duvet Inners - So be Quick!!
Queen $259
King     $299